The prestigious World of your exceptional Yacht : Designed, Engineered, Crafted by « Turquoise Yachts » !!
The World of Yachts : a World of Luxury and Excluxivity, a World of Joy and rich Experience, a World of individual Life-Style Choice !!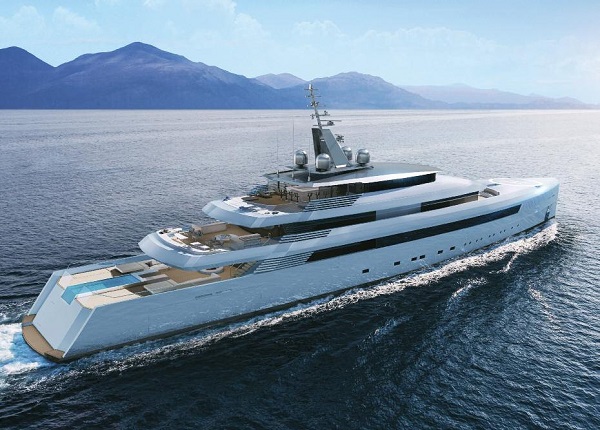 The history of « Turquoise Yachts » goes back to 1970's with the building of Turkey's first yachts under the Proteksan and Turquoise brands.
Since then, many more megayachts ranging from 40 to 77 meters in length have been delivered to an international roster of clients from the USA, UK, Europe and Russia.
In 2014, MB Holding became the majority shareholder in « Turquoise Yachts », confirmation of Turquoise as a high-end inventive and eminently capable custom builder.
Representing the pinnacle in yacht building, we continue to upgrade our facilities and processes at our two shipyards and continuously have several superyachts under construction.
To service our global customers, we now have offices in Monaco and Fort Lauderdale, as well as offering full technical assistance and support from our Istanbul headquarters.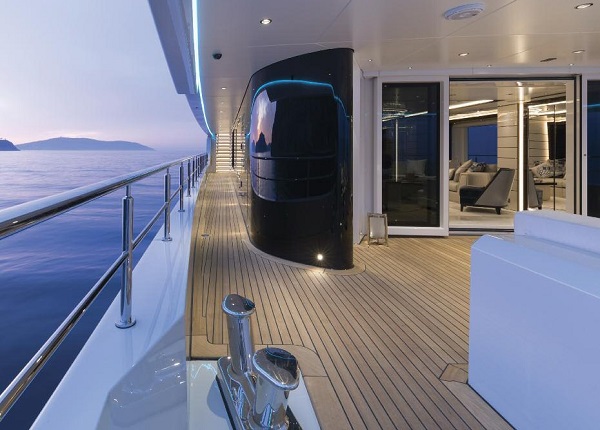 D E S I G N E D
WHILE COLLABORATING WITH WORLD RENOWNED YACHT DESIGNERS, THE TURQUOISE IN-HOUSE NAVAL ARCHITECTS, ARE ALSO ABLE TO DEVELOP CONCEPTS WITH DETAILED 3D MODELLING AND PLANNING THROUGH TO FINAL ENGINEERING.
Supporting leading designers and representatives associated with individual yachts, Turquoise Yachts has a talented in-house team able to work closely with
them to offer a complete turnkey solution.
The legendary Ed Dubois was associated with several of our yachts and was both the designer and naval architect of our first luxury 50m superyacht M/Y Turquoise.
Today our design supply chain features names such as : H2 Yacht Design, Vitruvius Yachts, Vallicelli Design, Ken Frievokh Design, Nuvolari Lenard, Jean-Guy Verges, Winch Design, Donald Starkey and Michela Reverberi to name but a few.
Turquoise Yachts platform hulls and superstructures can be fully customized, stern design, bulwarks and other main styling features, even the overall length of the hull, within certain limits, can be modified.
Our in-house and external designers will offer guidance and support, to fulfil both the exterior and interior ideas of clients who wish to have input in the look and feel of their yacht.
From the development of the preliminary layout plans, exterior styling, interior renders to the selection of materials and finishes, we are proud of the close collaborative relationships that our clients have with all our yard experts and designers.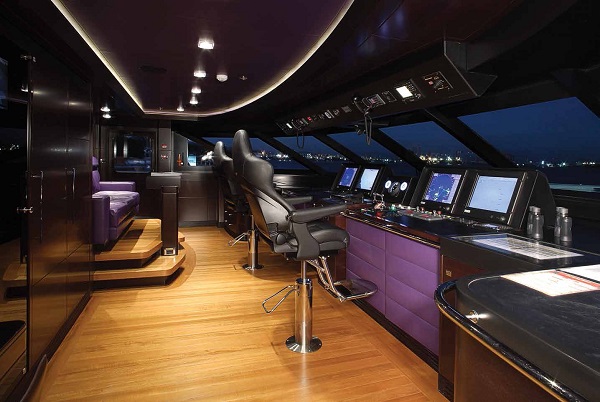 ENGINEERED
OUR HIGH-TECH ENGINEERS AND PROJECT MANAGERS DELIVER STATE-OF-THE-ART ENGINEERING SOLUTIONS AND DIGITAL DESIGN PLATFORMS.
Although we invest in the very latest of technology and software packages in order to achieve the pinnacle of efficiency, it still takes thousands of hours to build a « Turquoise yacht ».
Certainly our Computer Aided Design platform speeds up the preparation, but our no compromise approach to engineering and build standards cannot be rushed.
Our owners share this integrity and the management demands that safety and environmental issues are best in class.
Our 3D planning tools will have confirmed the most effective routes for connecting all the vital components through cabling runs, piping and for hydraulic systems.
Our engineers will have already designed-in the most fuel efficient installation.
Unique sprung engine mounts and elastic shaft couplings are incorporated in order to minimize vibration, then multi-layered insulation materials are added.
Now, at lower engine speeds, it becomes almost impossible to hear or feel the running components.
The result of our 'no-shortcut' philosophy is a high precision engineering product, encompassing the utmost in efficiency, virtually silent in operation and offering outstanding levels of comfort for our customer.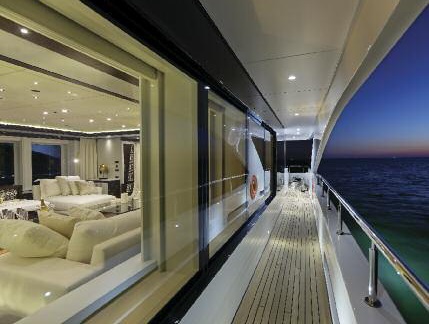 CRAFTED
TURQUOISE YACHTS SPECIALIZES IN THE HIGHEST LEVELS OF ENGINEERING AND CRAFTSMANSHIP
Along with a wealth of in-house talent from highly qualified engineers and project managers to ensure our yachts perform at their utmost, we also entrust the final production stages to craftsmen, who bring with them, generations of knowledge.
Interior fit-out and joinery is carried out by a talented team of artisans working in all materials, including exotic woods, stone, stainless steel and leather.
All our interiors are fully customized and reflect the level of detailed precision that has become the signature of « Turquoise Yachts ».
Making optimum use of our on-site paint facilities, we invest in both time and labour to ensure only the finest results are achieved when it comes to fairing and top coat application, applying the thickest finish layer of paint as permitted by manufacturers' specifications.
This not only delivers the most aesthetically pleasing result, but guarantees the finish will stand the test of time against harsh environmental factors and maintain its beauty for years.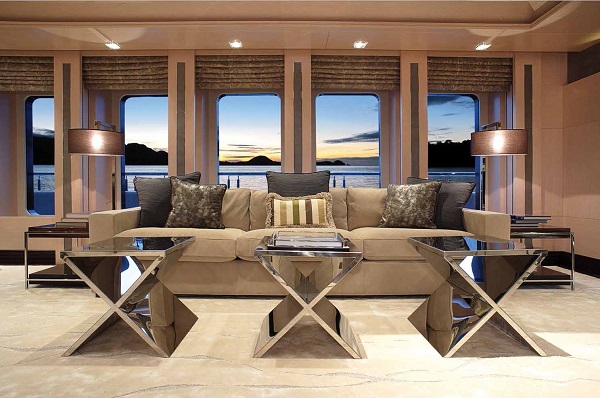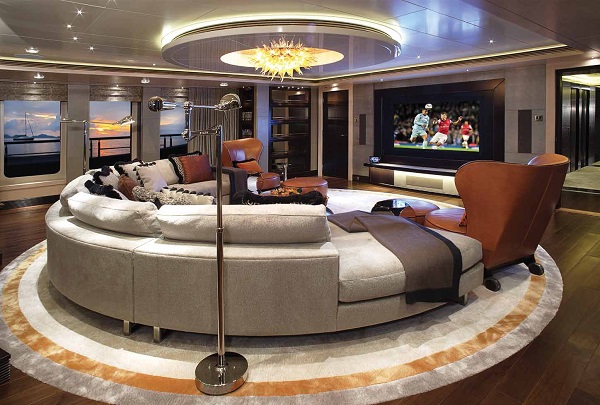 YOUR WORLD
WE PRIDE OURSELVES ON BUILDING YACHTS FOR OWNERS WITH VISION, TRANSFORMING THEIR DREAMS INTO REALITY.
Yachting is all about life style – your lifestyle.
Whatever your inclination, your bespoke Turquoise will be the key to fulfill your wishes. It will be the extension of your environment across the water.
Family, friends, watersports, travel, adventure, cuisine, service, entertaining, relaxation.
It will give you the opportunity to explore – your world.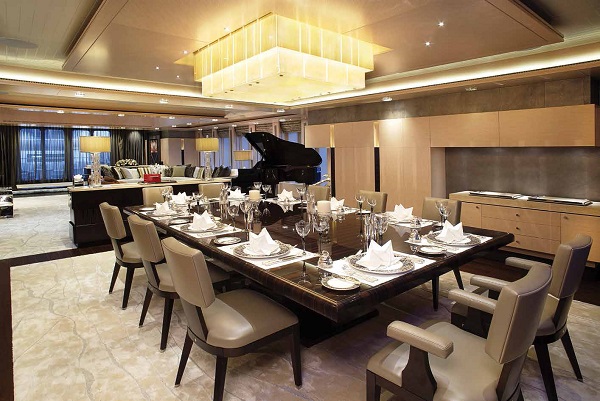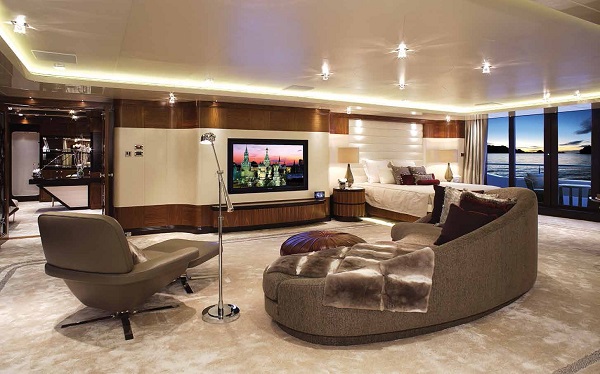 RECENT LAUNCHES « VICKY » 72.6 METERS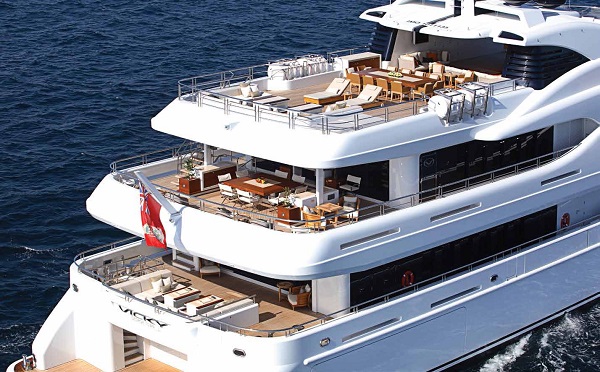 TYPE : Twin screw motor yacht
BUILDER : Proteksan Turquoise Yachts Inc
NAVAL ARCHITECTURE : Proteksan Turquoise Yachts Inc / Hydro Tec
EXTERIOR STYLING : H2 Yacht Design
INTERIOR DESIGN : H2 Yacht Design
INTERIORS : Ulutas
LENGTH OVERALL : 72.60 m
LENGTH WATERLINE : 64.40 m
BEAM MOULDED : 12.04 m
DEPTH MOULDED : 7.00 m
DRAFT, MAX. : 4.10 m
DISPLACEMENT : 1391 tons
GROSS TONNAGE : 1730 GT
RANGE, CRUISING : 5250 nm, at 15 knots
RANGE, ECONOMIC : +7000 nm, at 12 knots
SPEED, MAX : 17 knots
FUEL TANKS : 203.000 liters
FRESHWATER TANKS : 36.000 liters
SANITARY TANKS : 40.700 liters
CLASSIFICATION : Lloyd's Register of Shipping; 100 A1 SSC Yacht Mono G6,
LMC, UMSMCA : The Large Commercial Yacht Code (LY2)
CONSTRUCTION : Grade A steel hull, marine aluminium superstructure
PAINT SYSTEM : Awlgrip/ Hempel
GUEST ACCOMMODATION : 1x Master state room, 2x VIP cabins, 3x Guest cabins, 1x Kids cabins
CREW ACCOMMODATION : Captain + 17
MAIN ENGINES : Caterpillar, 2x 3516B HD A-Rating 2447 BHP
GEARBOX ZF : 7541 Ratio 3.96:1
ENGINE CONTROL : Kobelt
SHAFT COUPLING : Lo-Rez, 32.5 RT
ENGINE MOUNTS : Lo-Rez, BR4-TMS
SHAFT SYSTEM : Bruntons
STEERING GEAR DATA
ELECTRICITY : Elkon
DIESEL GENERATORS : Caterpillar, 4x 200 ekW C9 DITA
EMERGENCY GENERATOR : GM, 136 ekW
FIXED FIRE EXTINGUISHING : Marioff Hi-Fog
FIRE DETECTION SYSTEM : Consilium
ALARM&MONITORING SYSTEM : Smart Automation
CCTV : Panasonic
STABILIZER SYSTEM : Quantum QC2200, Zero-speed 7sqm fins
BOW THRUSTER : HRP Electrical 190 kW
ANCHORS AND CHAINS : Wortelboer
WINDLASS AND CAPSTANS : DATA
AC & VENTILATION SYSTEM : HEINEN & HOPMAN, Ducted air conditioning in public and owner's area
FUEL SEPARATOR : Alfa Laval
VACUUM TOILET SYSTEM : Jets
SEWAGE TREATMENT PLANT : Hamann
BILGE SEPARATOR : RWO
PUMPS : Bombas Azcue, Wilo
WATER-MAKER : Idromar, 2x20tons per day
LAUNDRY EQUIPMENT : Miele
GALLEY APPLIANCES : Electrolux, Siemens
LIFT : Lift Emotion
NAVIGATION-COM : Sperry S-BAND Radar, X-BAND Radar, ECDIS, SAILOR
GMDSS A3; by STT 2x Seatel TVRO, 2x Seatel V-SAT; by ANT
ENTERTAINMENT : ANT
LIGHTING : Light Cooperation/ Crystal Caviar/ Savage /Underwater Lights/Lutron
CRANES : Sanguineti, 2 x 2.1 ton capacity full beam overhead cranes & Sanguineti, 2 x 1000 kg SOLAS Rescue crane
SIDE BOARDING LADDER : Sanguineti
GANGWAY : Nautical Structures
TRANSFORMER PLATFORM : Opacmare
POOL : Proteksan Turquoise Yachts Inc
TENDERS & TOYS : Novurania Chase 23 Royal Tender Limo 2x Novurania GS4202x Kawasaki Ultra 300L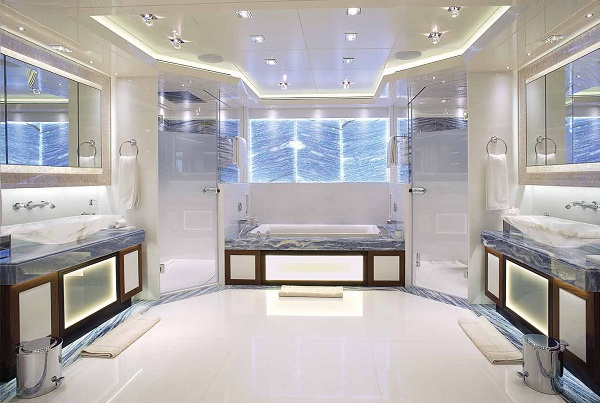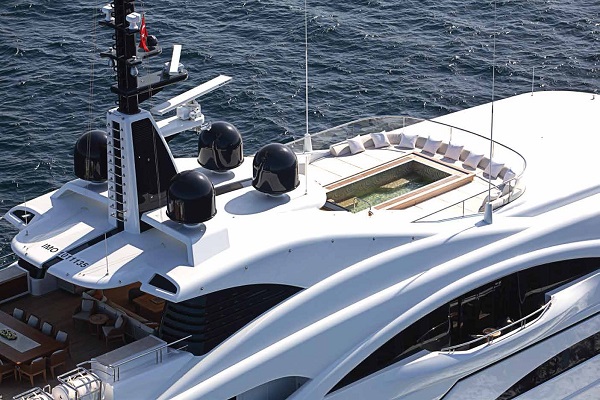 ABOUT TURQUOISE YACHTS
HISTORY & PRESENT DAY
Turquoise was established in 1987 by two leaders of the Turkish boat building industry: Proteksan Yachts Inc. and Turquoise Yacht Construction, The first superyacht built by the company was M/Y Turquoise (now called Double Trouble). It was heralded as Turkey's first world-class superyacht. Following the success of M/Y Turquoise, 20 other megayachts, ranging from 40 to 72 meters in length have since been delivered to an international roster of clients from the USA, UK, Europe and Russia. In 2014, Dr. Mohammed Al Barwani became the majority shareholder in Turquoise Yachts, together with Mehmet Karabeyoglu who remains as the CEO of the renamed shipyard. Today, Turquoise is continually expanding and upgrading its facilities and has several superyachts in build.
ULTRA MODERN FACILITIES WITH TWO SHIPYARDS
Turquoise Yachts is headquartered in Istanbul— the gateway to the Eastern Mediterranean and has two shipyards on the outskirts of the city —one in Pendik and the other in Kocaeli.
PENDIK, ISTANBUL & SHIPYARD
The Pendik facility is an impressive 25,000sqm landscaped property capable of accommodating 10 yachts of up to 85 m simultaneously. This facility is used primarily for finishing work and interior outfitting. The shipyard is located just a few minutes drive from the International Sabiha Gokcen Airport, which connects to a majority of world capitals and also plays host to private aviation. Kocaeli Shipyard The Kocaeli yard, located just across the bay from Pendik, has a 120 m dock and close to 50,000sqm of space. Here there are three covered sheds, the largest one measuring 160 m by 40 m, dedicated to steel and aluminium work as well as the installation of heavy machinery and piping.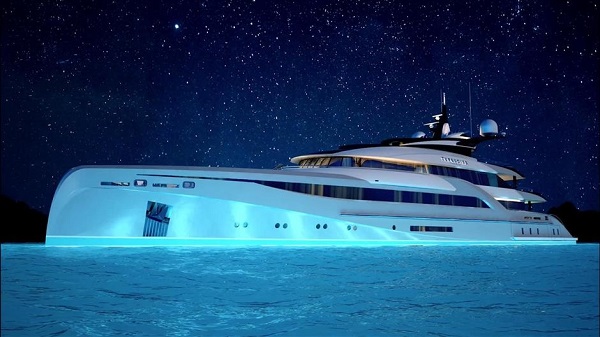 TURQUOISE YACHTS WORLD
MONACO OFFICE
1, rue du Gabian Monaco
MC 98000
Tél.: +37797982968
monaco@turquoiseyachts.com & info@turquoiseyachts.com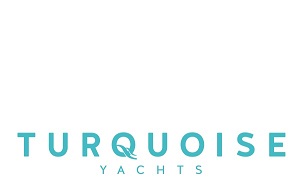 www.turquoiseyachts.com
Crédits photos : Turquoise Yachts & D.R